Awesome idea. Although I wasn't riding from '78 to about 1982 what I saw '82 to '85 was people riding on anything they had. Like anything else, there was an evolution going on and it didn't just change over night. I had a used Haro Gen 1, broke it and went back to my Kuwahara before Freestylin' came out.
Around here in Golden Gate Park, it wasn't originally all about the classic freestyle - flatland and ramps. Most of the riders in the park were racers. The sessions in the park pre-Freestylin' were kind of like meet up, hangout, do some flatland, hit one jump closeby, hit another jump, raid McDonald's, take a street ride to the Presidio for another jump, go down to Fisherman's Wharf do some tricks for the tourists and maybe pass the hat.
The Freestylin' article brought in a whole group of people from a little further out and who came just for the sake of freestyle. Also, contests were happening so people started to focus on freestyle, working on tricks especially for their next contest.
So, while the people were starting to specialize, the bikes were too. But, it didn't happen overnight. Even though a few freestyle bikes came out in 1984, the established brands were still on everyone's mind and not everyone ran out and bought a new bike every year.
Let's talk about the timeline a little. We went to Europe in late 1984 and at that time I was on a TA. The only things that made it a "freestyle" bike were the Skyway EZ bars (1st gen), knee bumpers, a long front cable and some grip tape. Skyway also made up some straight rake forks. We didn't get pegs until we were actually in Europe. By that time, the first Venice and Huntington contests had already happened and pretty much everyone was pegless. 1985 was when things really started to change bike-wise.
As far as mods and preferences/fads go, some of the main things I remember happening to frestylify your race bike were:
1. Coaster brake. Since most of the people around here were racers, not a lot of people actually rode coaster here.
2. Tuffs. Same for tuffs. Only a few people in GG park were on Tuffs until the real freestyle boom hit. I just happened to have them.
3. Front brake. Front brakes were a pretty obvious first mod to make a freestyle bike. You had to get the thing to clear your frame though which usually meant getting rid of the auto adjuster and getting a long front brake cable.
4. Seat. Most people I knew weren't into the Aero seats for freestyle. Bob Haro put chainring bolts in his for grip but I never saw anyone get into that.
5. Seat to handlebar alignment. Around here eveyone wanted to do track stands and we all thought you had to have your seat come close enough to your bar end to be able to hold both.
6. Tires. Stadium tires pretty much said you were a freestyler but I personally liked Snake Bellies since they were pretty good all around.
7. Grip tape. Grip tape helped a lot with all the frame crawling and standing. We did get a little silly with it but I still will always grip tape the top of a platform.
8. Knee bumpers. We all put ten speed foam grips on our handlebars for padding.
Other fads around here were:
1. CW bars. That high crossbar certainly didn't make sense for freestyle but we were all breaking bars and those things looked buffed. They broke too though. Ha.
2. Boss frames. Damon Frost rode a custom Boss so everyone wanted a Boss around here. I had a Patterson for a while. There was some thinking that the low top tube gave you more room for tricks.
3. TA frames. More than a few people around here will tell you that the TA XL was the best ramp/jumping bike they ever had. These were being freestyled on into the late 80's then the Dirt Brothers bought Skyway's old stick and re-branded them.
Darcy Langlois and myself doing some backhops. My bros Tommy Guerrero and Art Liboon in the background. Darcy and Art are on Redline MXII's, Tommy's on a polished Race Inc and I'm on my Kwi with GT bars and forks.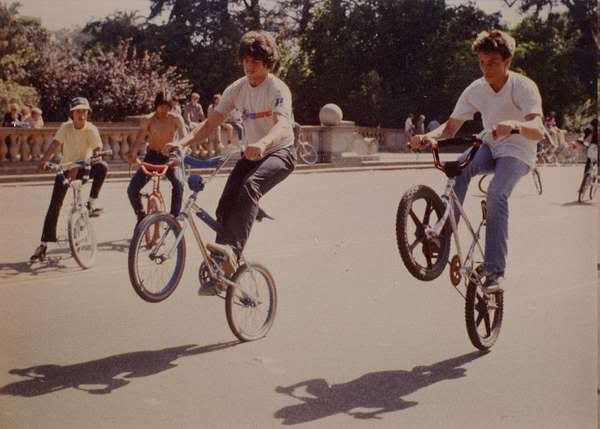 Damon Frost and Vander. Damon on his custom Boss and Vander's on a Schwinn Sting.
A better look at Damon's bike.