Man it's hard to believe that it was 20 years ago already. November 14, 1986.
On a cold November day, in a pole barn that housed a race track in Le Sueur MN the KOV series started... if you were there, you know how insane that day was, share your stories from the event with the other kids.
Ron W. in practice: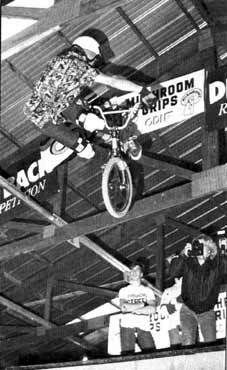 OPEN PRO :
1.Mike Dominguez
2.Josh White
3.Ron Wilkerson
4.Randy Tischmann
OPEN EXPERT :
1.Dale Matson
2.Krt Schmidt
3.Thad Miller
4.Ryan Benning
5.Brian Dahl
6.Tim Krueger
7.John Hughes
8.Rob Stieger
This was the first time the club homeboy stickers were ever tossed into a contest pit...
[ October 27, 2006, 12:45 PM: Message edited by: mikkopeters ]